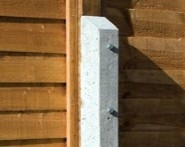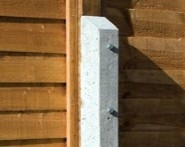 Concrete Godfather Support Post
£8.00 inc VAT
Concrete godfathers for use with timber fence posts.
Description
Traditional concrete godfather repair spur available in a  4ft length.
Approximately 3 inches wide by 4 inches deep.
Concrete into the ground 2ft and bolt your timber fence post onto it.
For a 3×3 post you'll need 2no M10 coach bolts at 200 mm long or 2no coach screws at 160 mm.
For 4×3 or 4×4 timber fencing posts use M10 220 mm coach bolts or 180mm coach screws.
Ideal for use as a repair spur.
Can also be used with on new fence lines to ensure posts do not come into contact with the ground and suffer premature rot.